As luck would have it, the Victorian Cliff House was captured on early movie film at least once...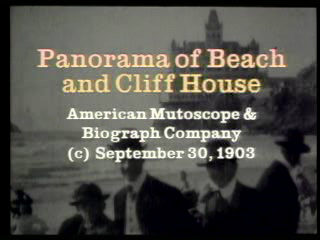 American Mutoscope and Biograph Company
Note: the above is a link to the Library of Congress. Their site provides alternative viewing modes and avoids my having to store the movie in my limited disk quota.
Iíve heard rumors that the Victorian Cliff House was also caught on early Newsreel footage, but I've been unable to confirm. If anyone can provide more information, it would be much appreciated.
Update - the above link has been lost. So here it is directly for you to download & play:

sutro.mpeg