Shipwreck of the Parallel
January 16, 1887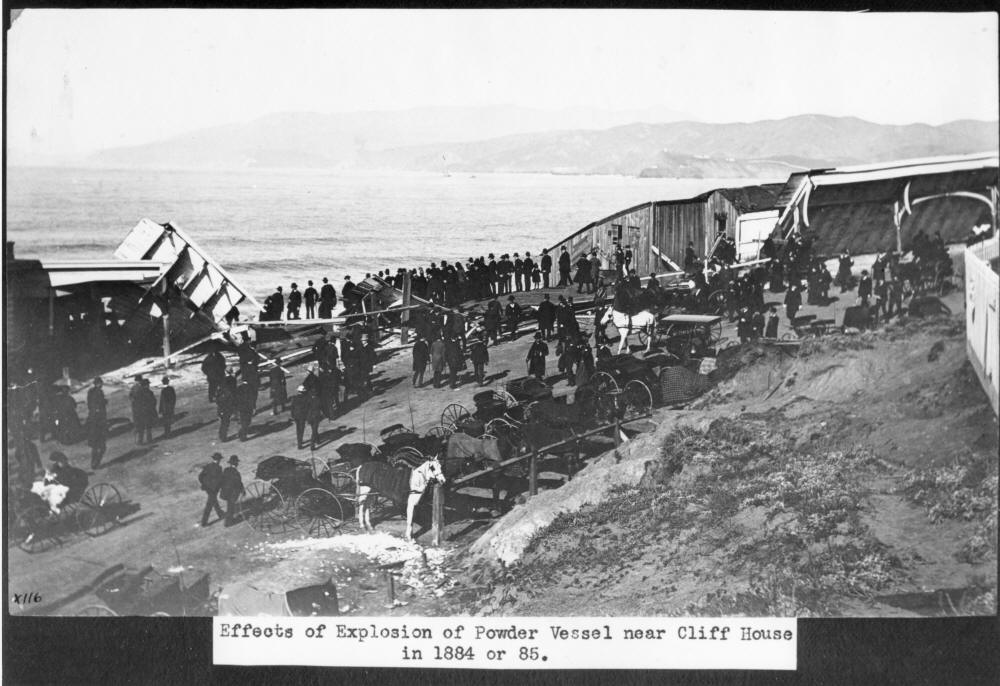 Image courtesy Western Neighborhoods Project
In the early morning of Sunday, January 16, 1887, an explosion occurred at Lands End that was so powerful it was felt as far away as Sacramento, Vacaville, and San Jose. The source was an abandoned two-masted schooner named Parallel.
The story of the Parallel is a study in negligence. Illegally packed at a San Francisco wharf with a dangerous cargo that included forty tons of dynamite powder, the Parallel set sail on Wednesday, January 12, for its destination in Oregon. Three days of uncooperative weather and tides followed, hindering the ship's progress and placing it no farther on its voyage than Lands End. By Saturday evening, the Parallel was caught in a heavy swell and heading towards the shoreline. The crew, deciding that their ship was doomed and fearing detonation of its cargo, hastily set off for shore in a rowboat. They failed to send out any warning signals before abandoning ship.
Left to the ocean's whim, the Parallel drifted until it became lodged on a large rock in the cove below the Cliff House. Local residents went down to offer assistance, but found no one on board. They dispersed after concluding that there was nothing they could do until morning. The ship's cargo, probably ignited by the oil lamps the crew had left burning, finally exploded around 12:30 a.m. According to the crew, who watched from the safety of Point Bonita on the opposite shoreline, there was no light or flash accompanying the blast. Those closest to the explosion saw little but a shower of falling debris and rock in all directions.
The following day brought thousands (the crowd was estimated as high as 80,000 people) to Lands End to see the site of the disaster and hunt for relics. An American flag was hung half-mast and upside down as a signal of mourning and distress over the battered Cliff House, but the enterprising proprietors were swift in recovery. By morning, a handpainted "Bar Open" sign was up and visitors were invited inside for drinks and close-up views of the damage. Nearby Seal Rock House, Sutro Heights, and local cottages all sustained damage from flying debris and shattering glass. Despite its violent end, the Parallel caused no deaths and only minor injuries to a few people.
Source: Christine Miller, Park News, Fall 1999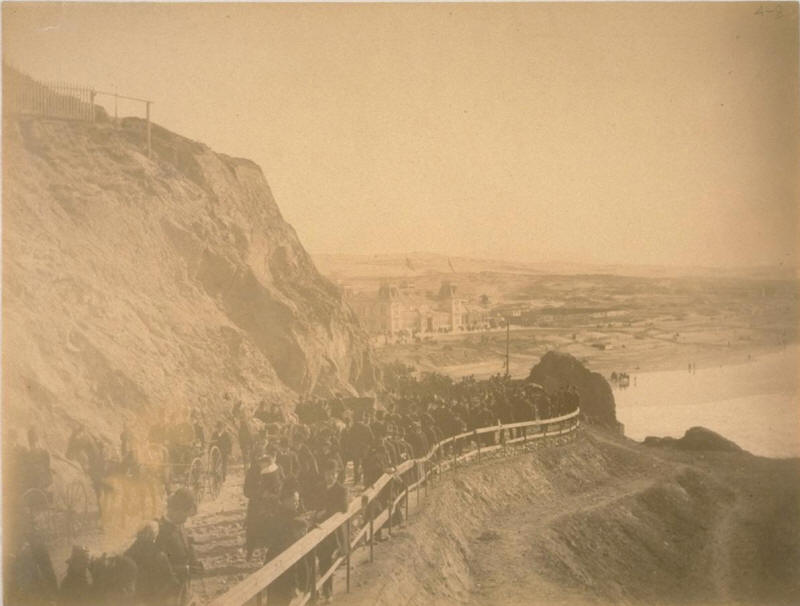 "Scene from the Cliff House, San Francisco, California, January 16, 1887
(people gathered to view the wreck of the Schooner Parallel, wrecked on January 16, 1887)"
Source: Calisphere, UC Libraries (link)


San Francisco Chronicle - Jan 16, 1887


NY Times - Jan 17, 1887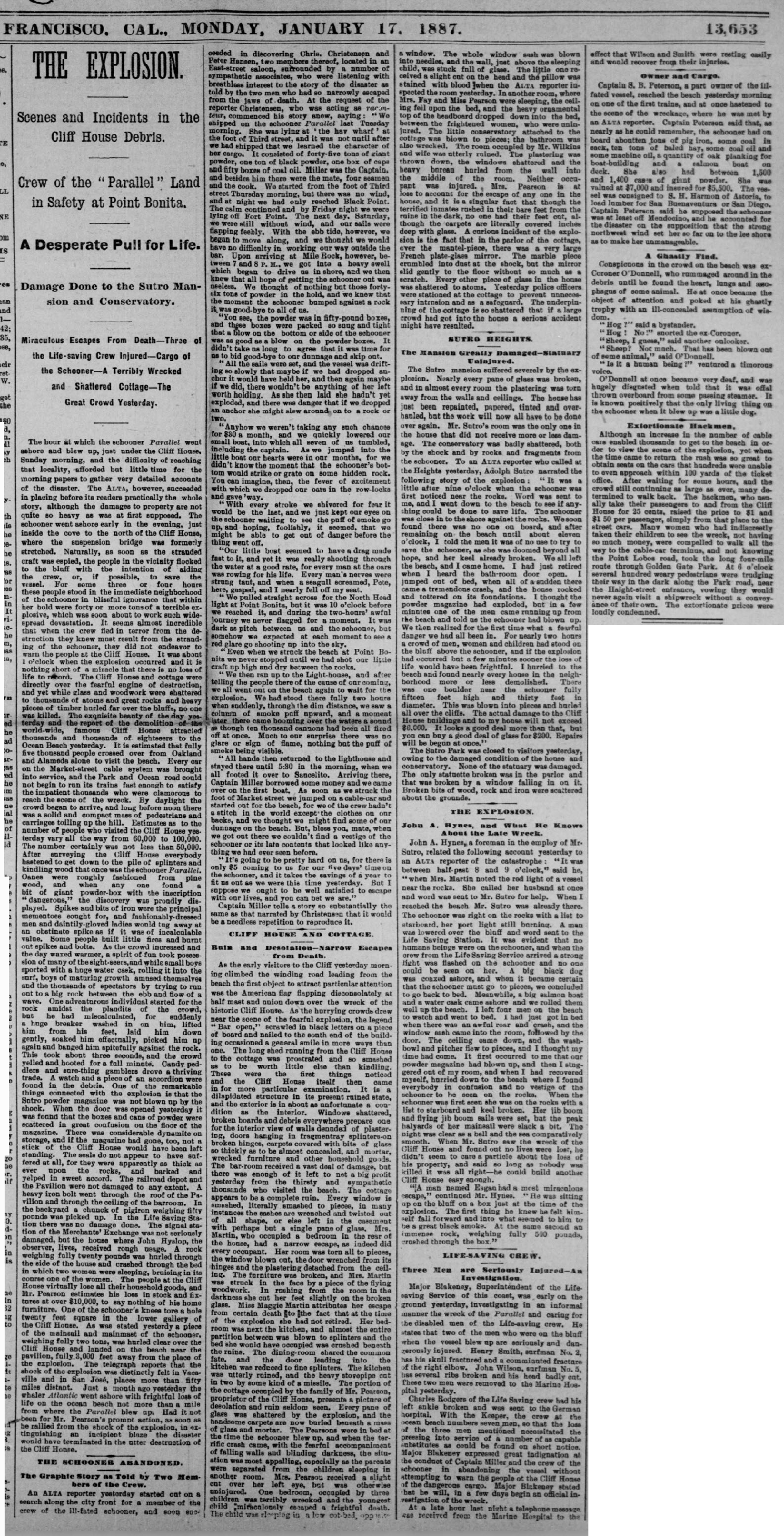 Daily Alta California - January 17, 1887

Sacramento daily record-union - Jan 17, 1887


San Francisco Chronicle - 17 Jan 1887
(click above image for full size)


The Gazette: Fort Worth, Texas - Jan 18, 1887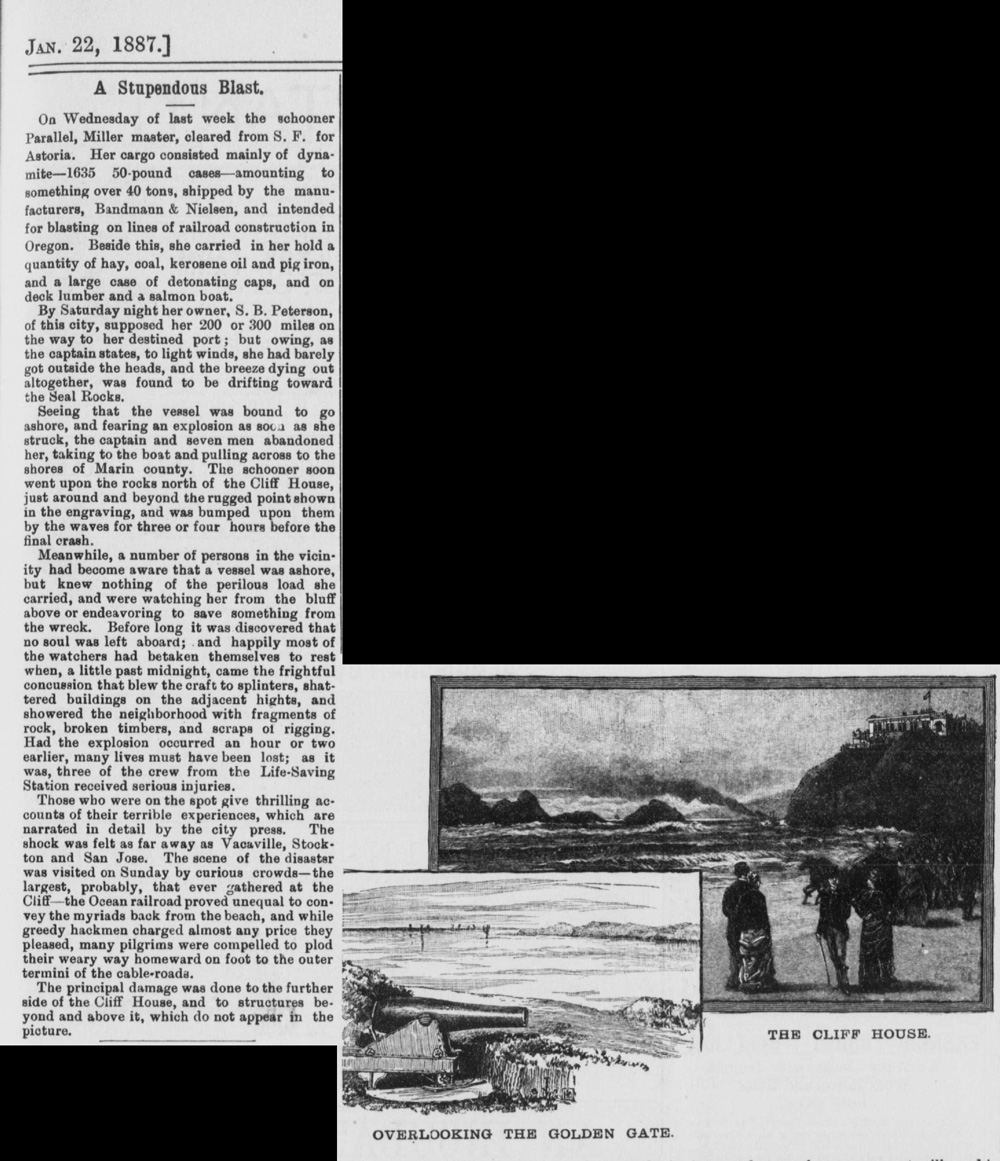 Pacific Rural Press - 22 January 1887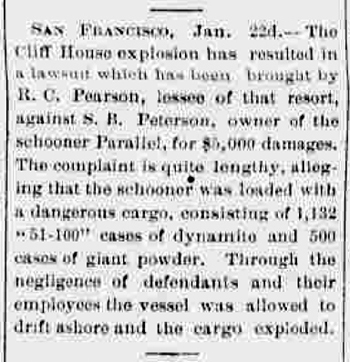 Santa Cruz Sentinel - 23 January 1887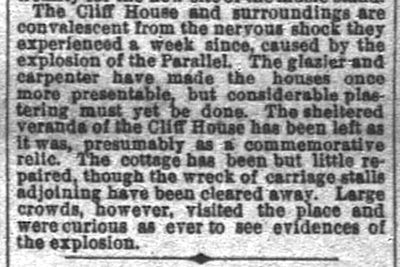 San Francisco Chronicle - Jan 24, 1887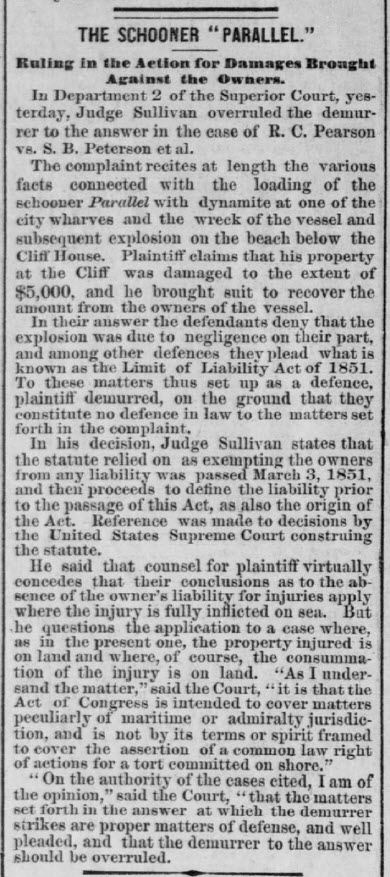 Daily Alta California - 30 July 1887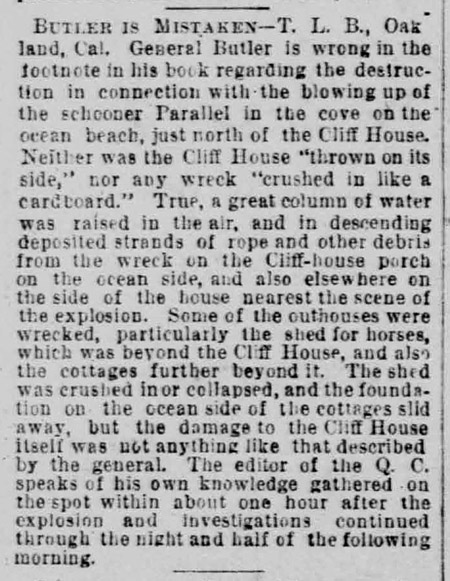 Morning Call, June 26 1892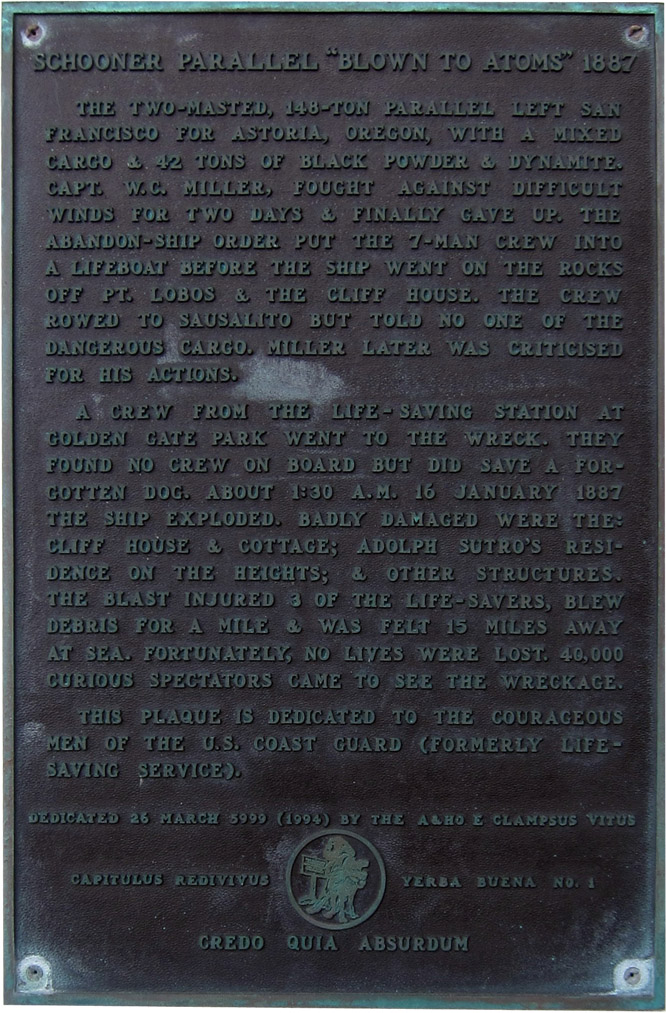 Plaque describing the event