"Views of Trip, 1910"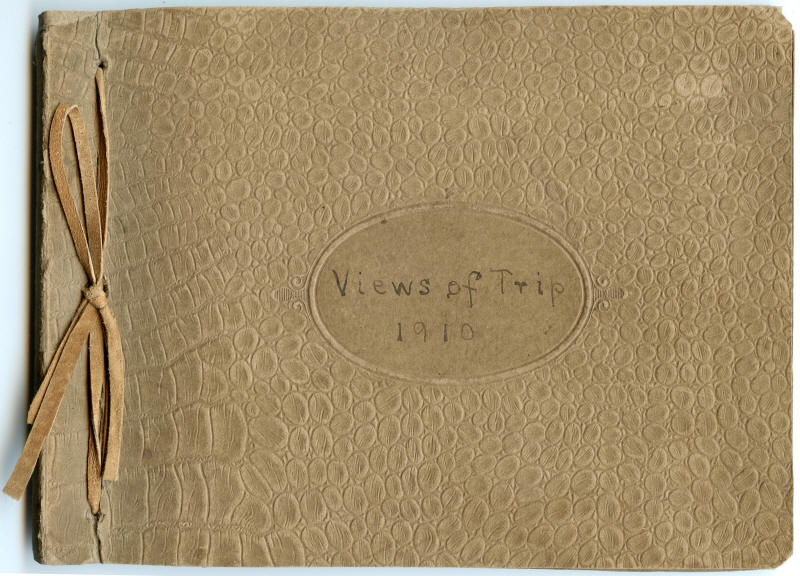 "Views of Trip, 1910"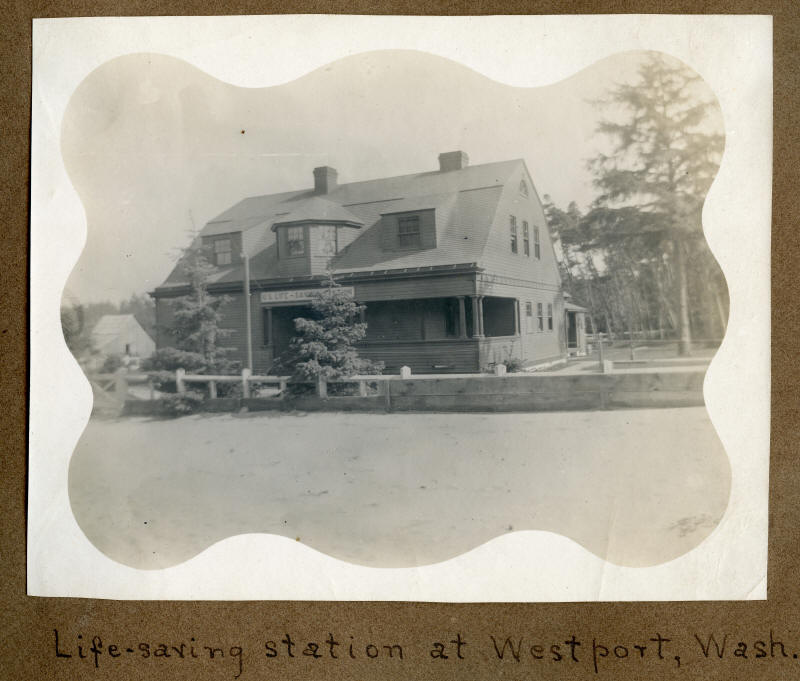 "Life-saving station at Westport, Wash."
Peterson's Point Lifeboat Station, Grays Harbor
(https://www.historylink.org/File/5665)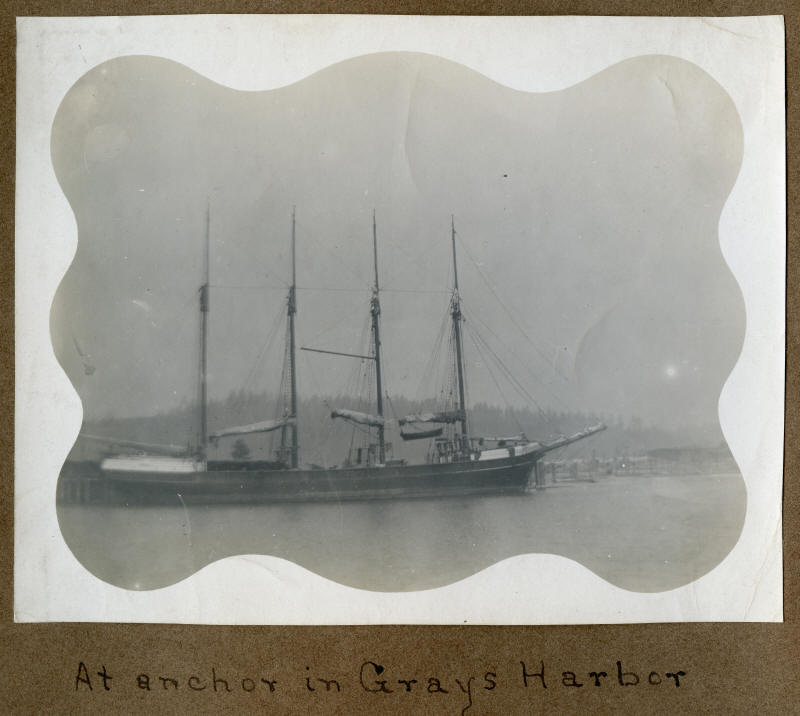 "At anchor in Grays Harbor"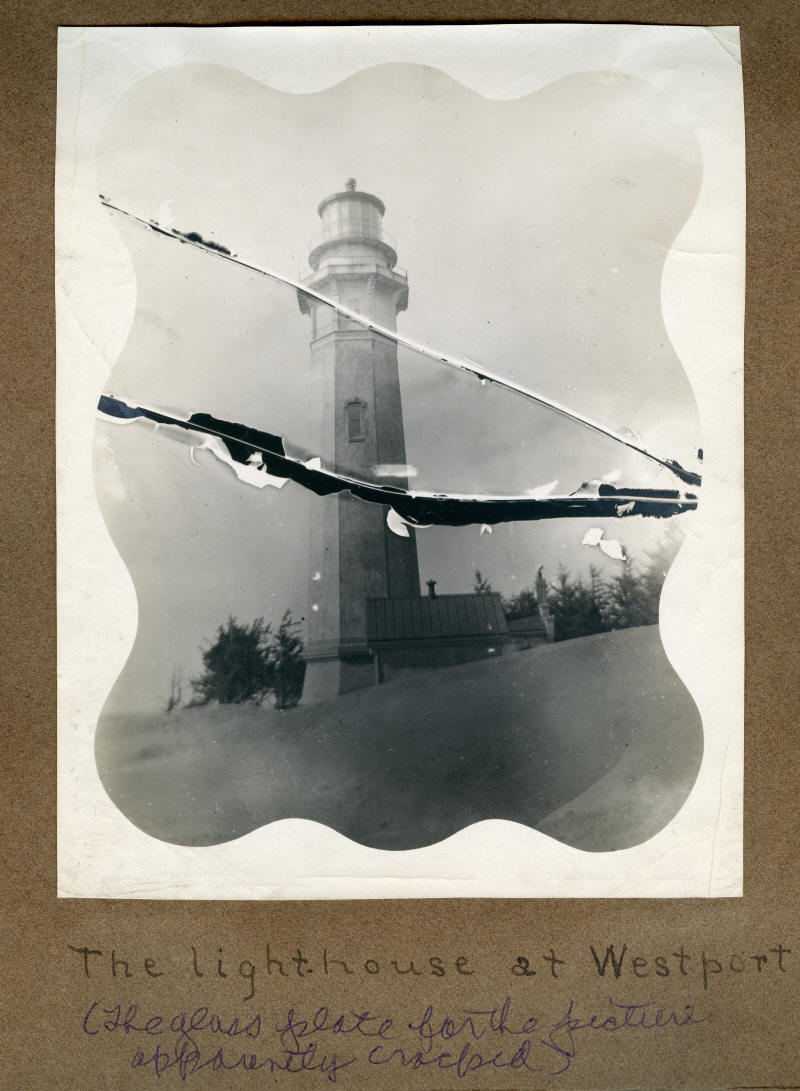 "The lighthouse at Westport"
(https://www.wsbhs.org/lighthouse)
(https://goo.gl/maps/ukAGxz8ZYbUQbQnHA)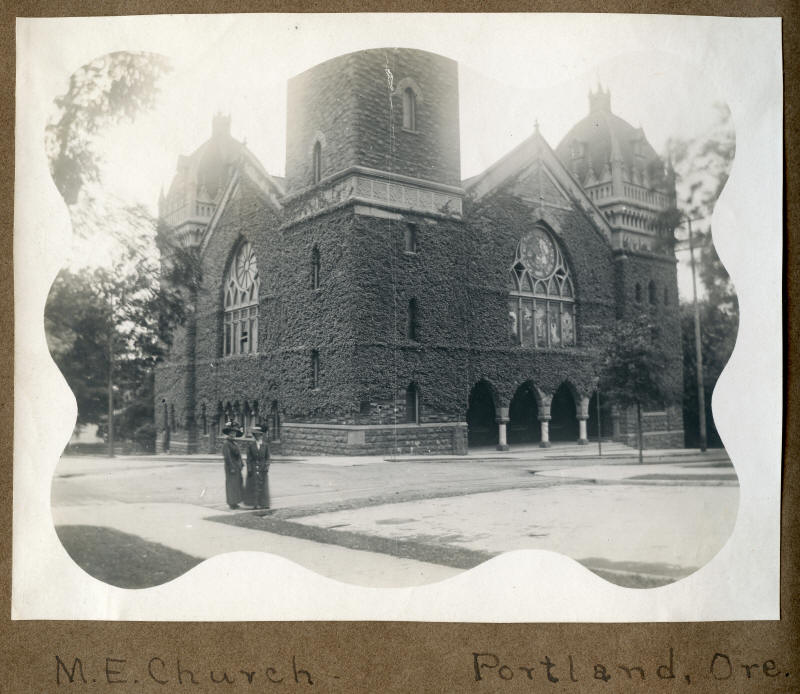 "M.E. Church, Portland, Ore."
First Congregational United Church of Christ - Portland 1126 SW Park Ave, Portland, OR 97205
(image is reversed)
(https://goo.gl/maps/fVoo9bfAvtgc1Lrd6)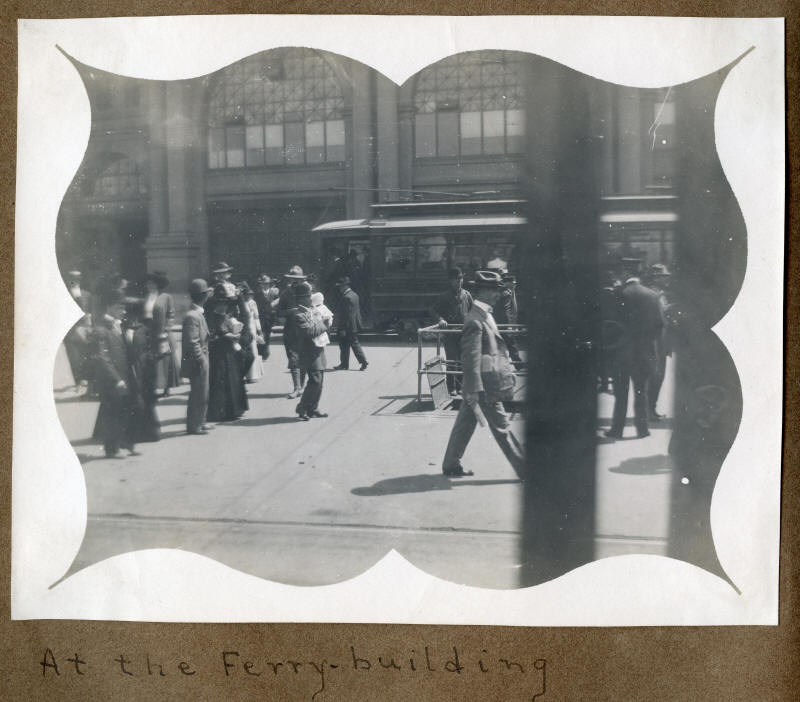 "At the Ferry building"
(Google Street View: https://goo.gl/maps/6JSbYkCg7aa51Rp87)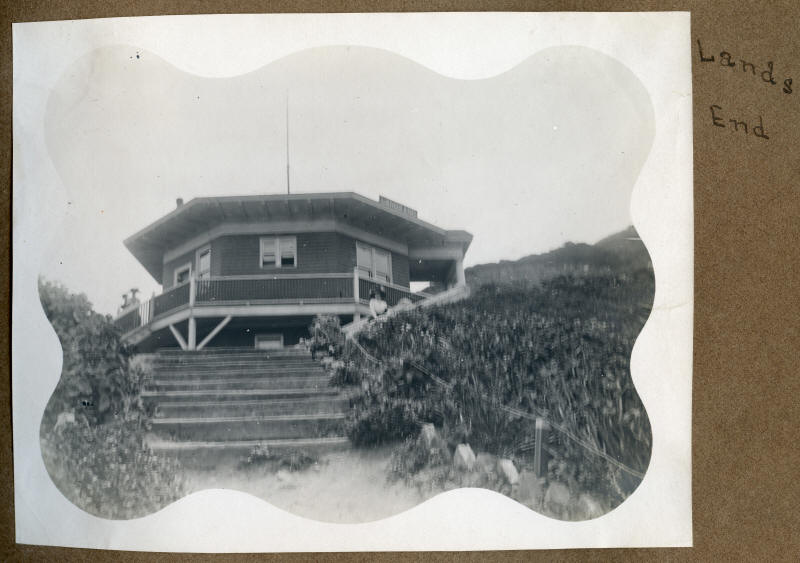 "Lands End"
Lands End Station as seen from below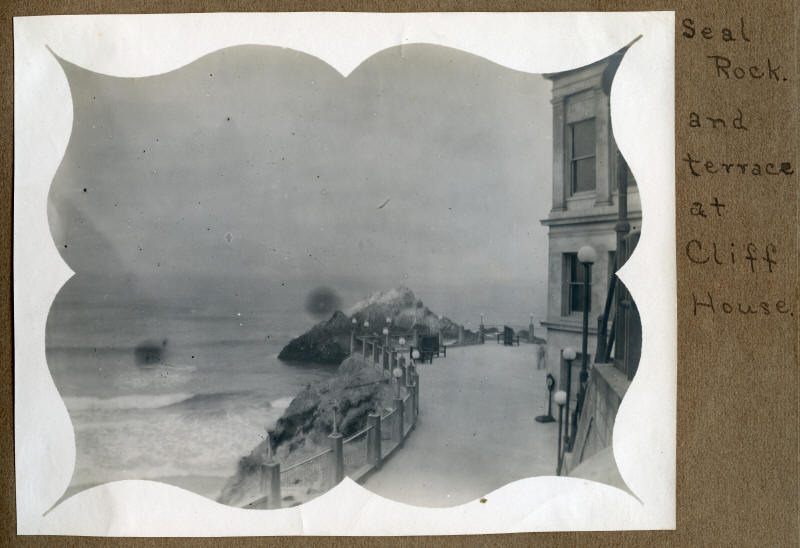 "Seal Rock and terrace at Cliff House"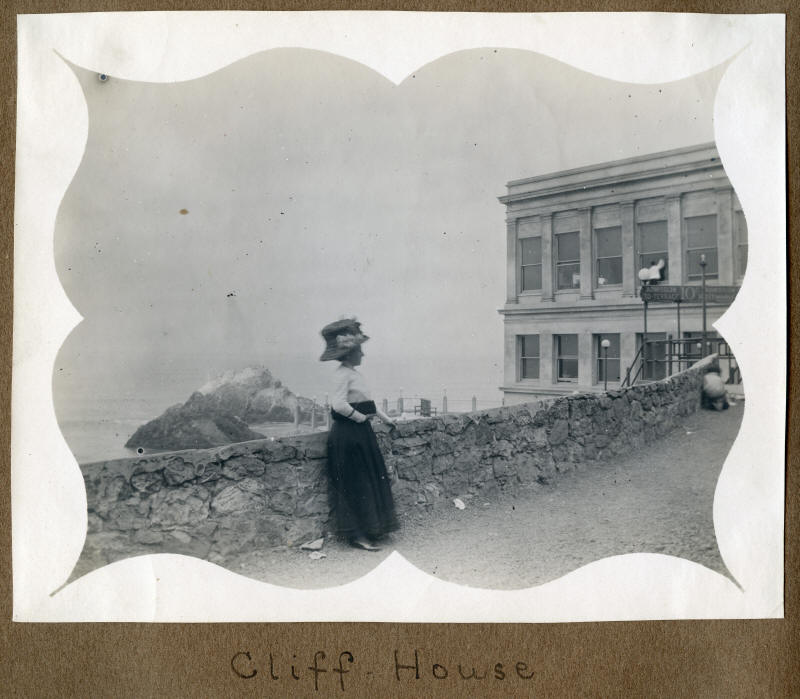 "Cliff House"
John Freeman (11/26/2019): "The hat style the woman is wearing was introduced in 1908 and remained popular with women for about 5 years, but not necessarily with men. The style would follow the Merry Widow style, as more practical because it was more head-encompassing, more resistant to wind or open auto travel, and the woman looked stylish. The style got the name "peach basket" but often men's naming was more derisive ("chamber pot" was the worst). Just another example of women's expressing their independence that men would have to accept!" https://en.wikipedia.org/wiki/Peach_basket_hat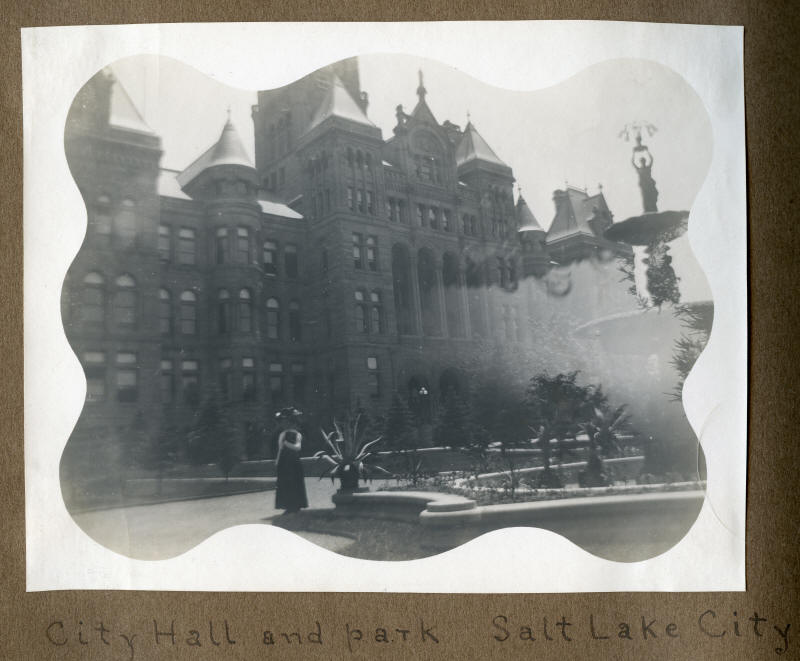 "City Hall and park, Salt Lake City"
(https://goo.gl/maps/bCCYH9N58xqgRXWE9)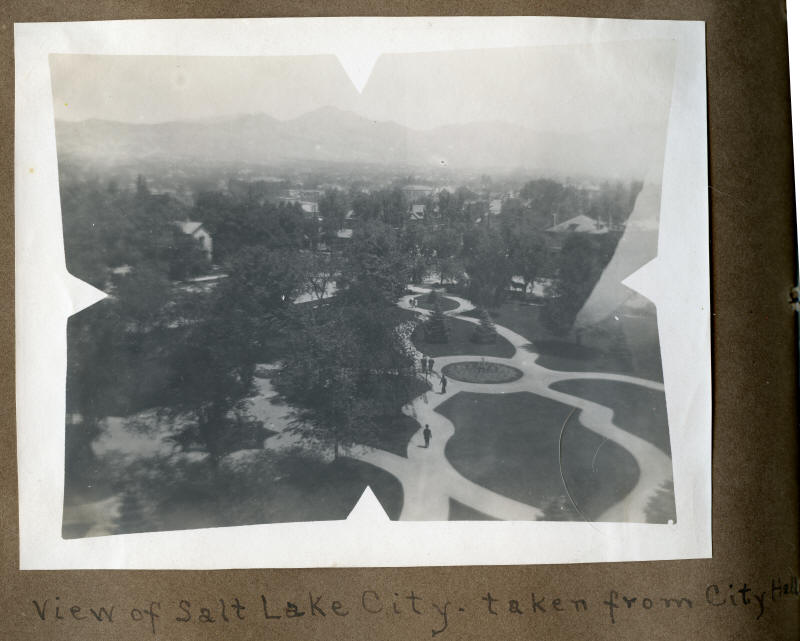 "View of Salt Lake City - taken from City Hall"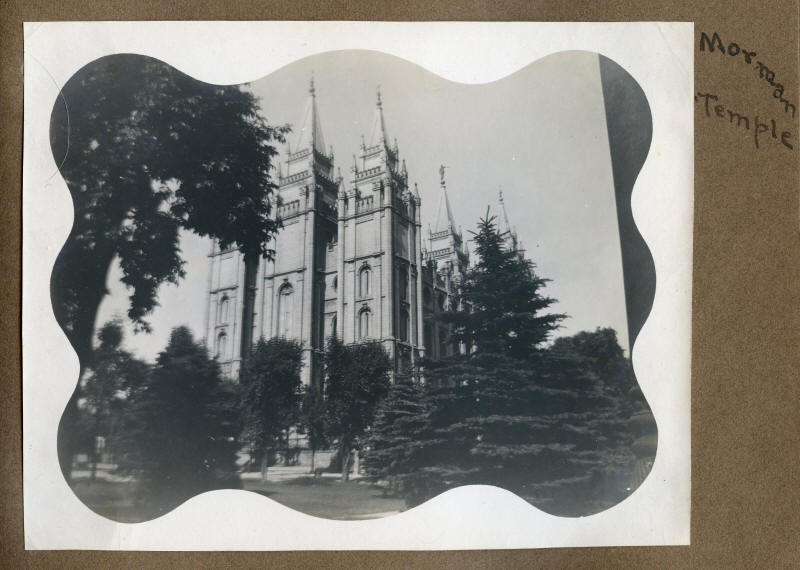 "Mormon Temple"
(https://goo.gl/maps/KY1Zuav9vzikFh4R9)
John Freeman (11/26/2019): "This album is a great example of how each photo was printed from the original glass negative, with a scalloped matting. The subject can be seen, but they are framed by artistic matting. A great example of a popular style of the day, to create more than just photos on a page, but having the extra artistic matting when printed from negative to print."
Album description from ebay listing

Small photo album with inscription of Views of Trip and date of 1910 on front. Inside are 28 photos each 5 inches by 4 inches. There is one photo on each side of page and 2 photos are loose. Appears to be a trip from Washington State to San Francisco via ship down the coast and then overland to Salt Lake City Utah. Inscriptions identify locations such as Westport Washington, Grays Harbor, Portland Oregon, and Astoria Oregon. Then 7 photographs of San Francisco including two with descriptions of entering the Golden Gate, The Ferry Building Lands' End, Seal Rock and the Cliff House. Then a photo of crossing Nevada. Next is 5 photos in Salt Lake City including outside and inside the Mormon Temple.