Site of the Sutro Baths prior to construction, Flag Rock on the left
Source: Marilyn Blaisdell Collection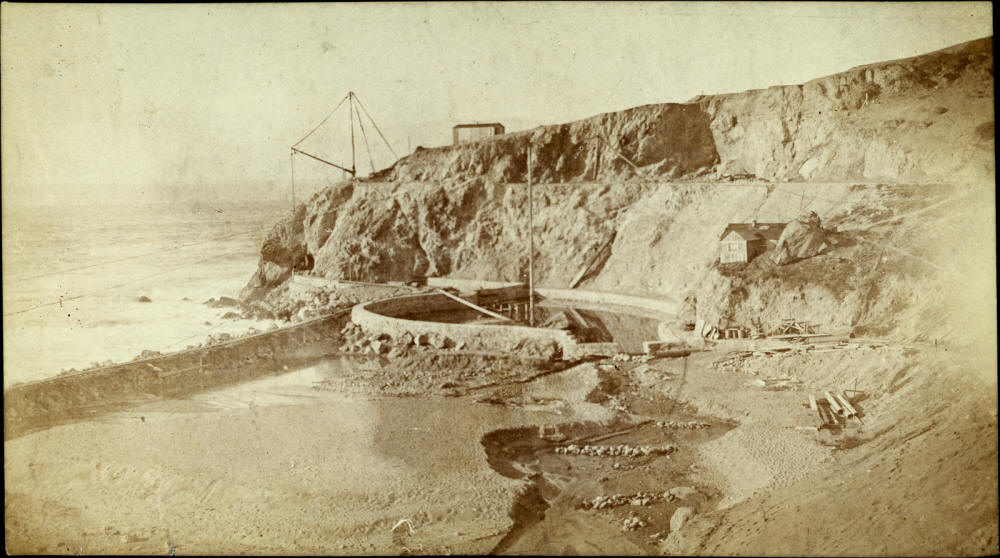 1
Image courtesy of Western Neighborhoods Project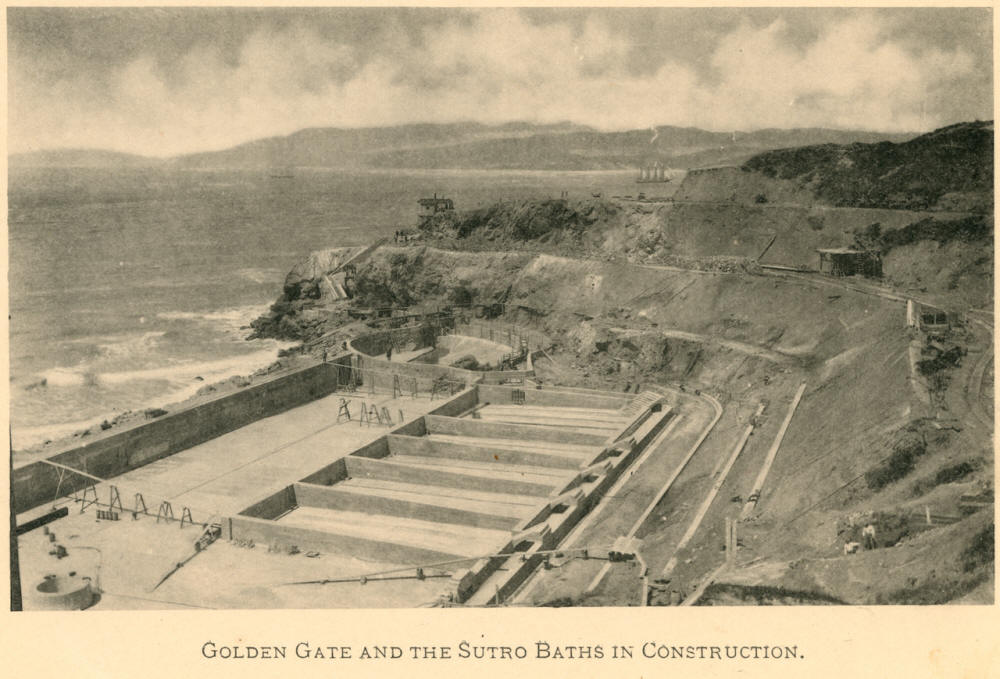 2
"Golden Gate and the Sutro Baths in Construction"
(believed to be an illustration from an 1891 souvenir photo guide)
OpenSFHistory (wnp70.0538)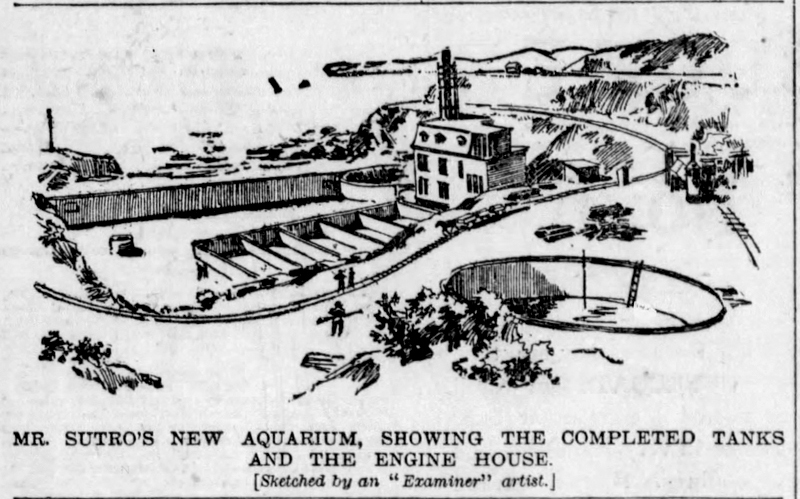 2.5
The San Francisco Examiner - Sep 18 1892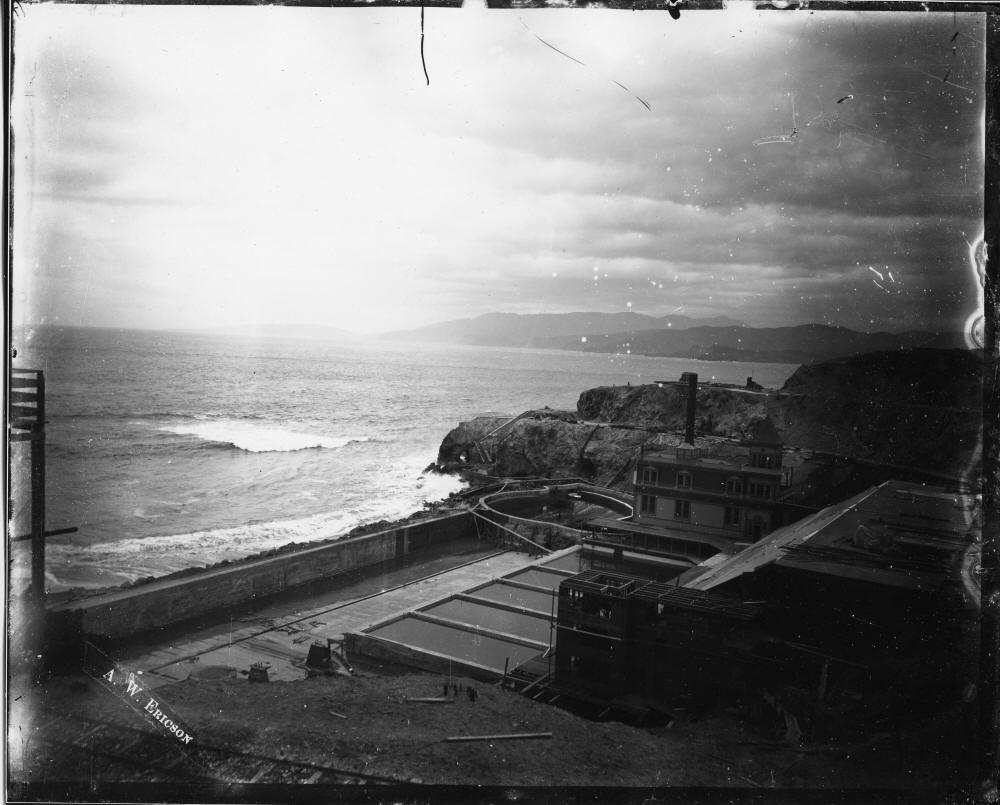 3
Source: http://library.humboldt.edu
Change of Plans
John Martini notes an interesting glitch in the construction...
I was reviewing the construction photos and noticed something curious; the below views indicate that part of the bathhouse building was actually demolished during construction.

The first photo shows construction sometime in January-February 1893. (The rising columns and trusses help date these images.) Notice the circled area in the vicinity of the future Grand Staircase.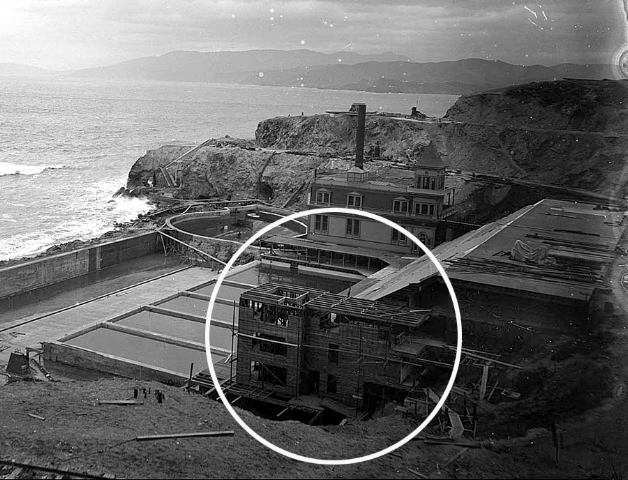 Sutro Baths construction c1893 (BANC 19991.02)
The next photo was taken around June 1894. This time, most of the previously-completed work is missing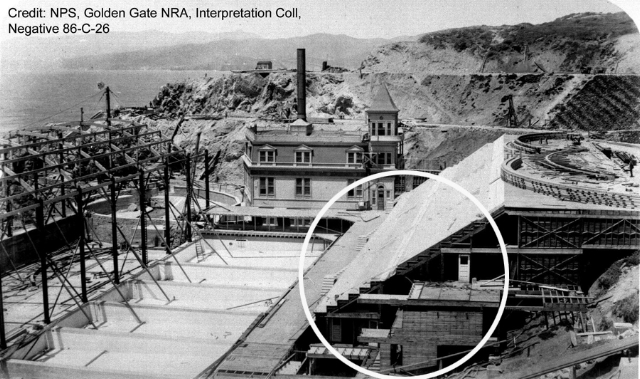 This makes me speculate that Sutro changed his mind and directed the architects to tear down new construction while work was still in progress, much like Hearst did to Julia Morgan at San Simeon. It's a minor point, but still interesting. -John Martini 2008

And from John Hall...
"Based on my study of the SF Library plans the construction shown in the first photo follows the original plans. There were to be two "Towers," one each side of the grand stair case. Each with an elevator. Your first photo shows the beginning of the northern tower. I think what probably happened is that they realized the "towers" blocked the views from the grandstands. So they demolished the western portion and left it open with just columns. Only one elevator was constructed and it was an open cage running on vertical rails. The eastern portion of the structure then became the windowed structure you see in the photos of the grand staircase. The funny thing is that the roof of the baths was constructed to accommodate both elevators even though only one was built.
A similar thing happened with the 1896 Cliff House. The large dormers on the north and south sides below the tower were not built according to plan. I think someone realized that if they were built to plan there would be no bearing walls for the tower. At least that's what happened to my model when I built it "to plan." I had to modify it using the photos of the building. John" - John Hall 2008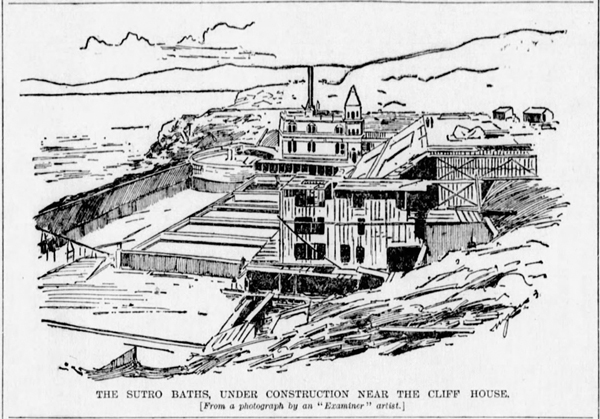 3.5
The San Francisco Examiner - Feb 5 1893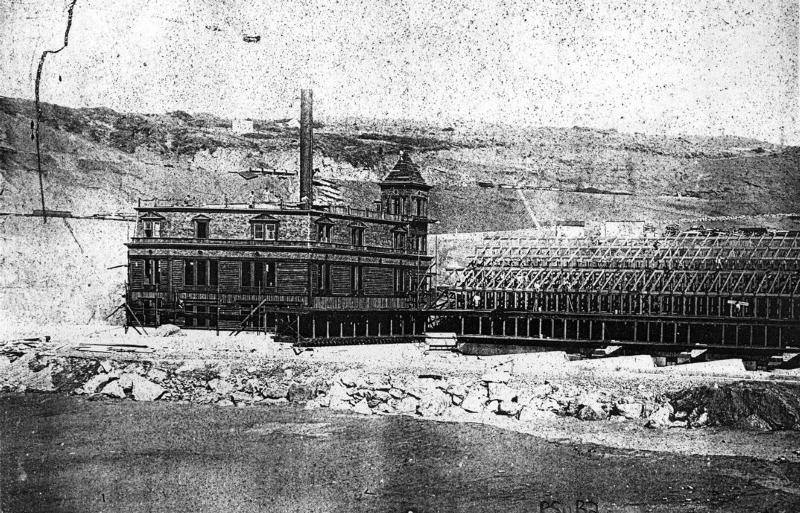 4
GGNRA image (call #GOGA-1722)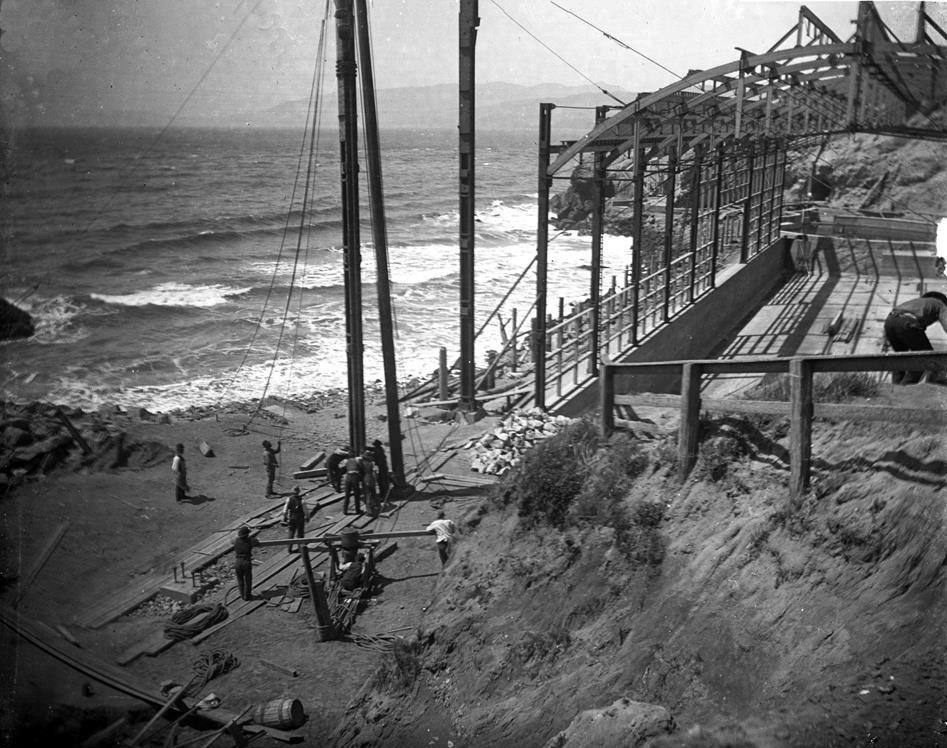 5
Source: Facebook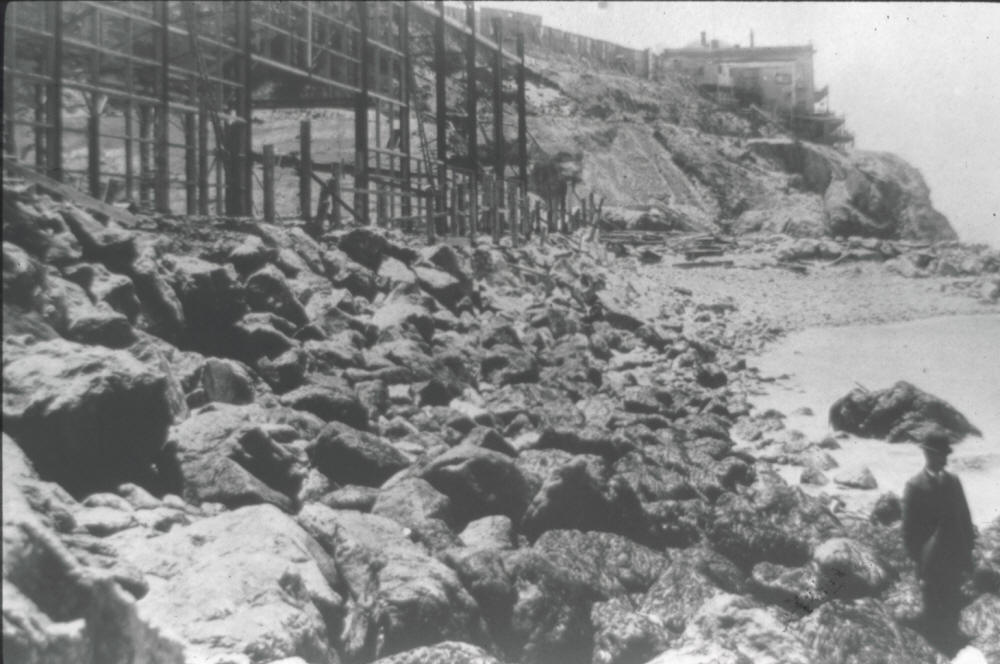 8
GGNRA's Interpretive Slide Collection
1893 rock breakwater, SB-007,C-1 (GOGA Slide Coll)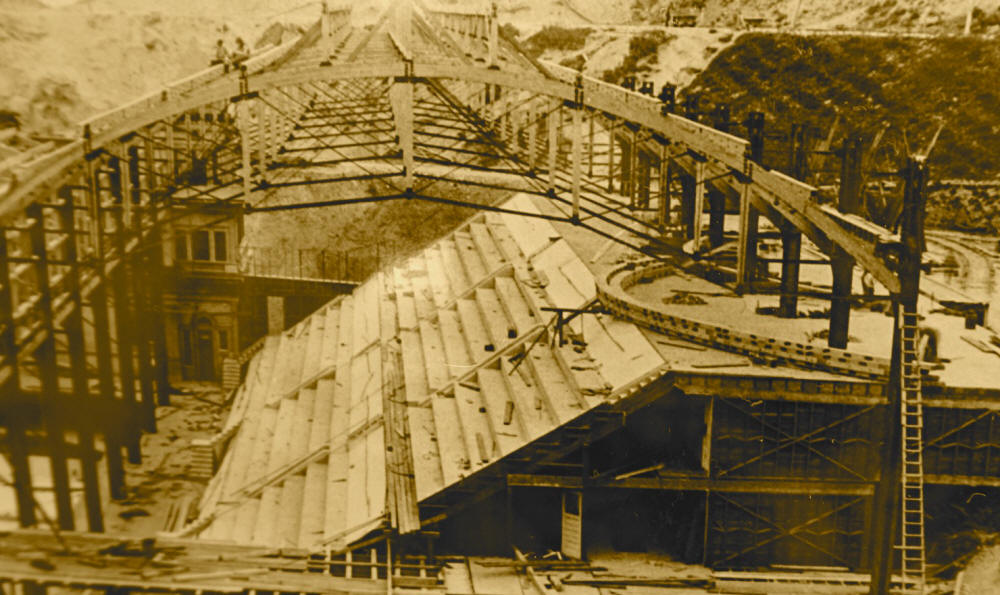 9
Emiliano Echeverria Collection
(cropped version of the original photo, California Historical Society)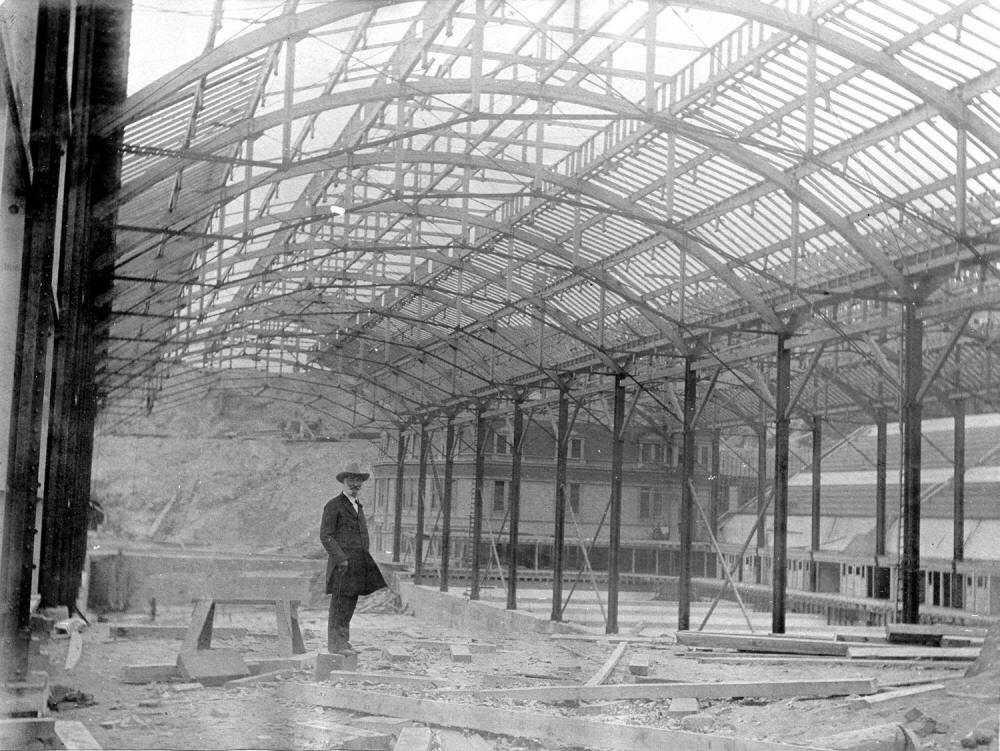 10
Adolph Sutro overlooking construction
Marilyn Blaisdell Collection

10.5
"THE SUTRO BATHS ARE RAPIDLY NEARING COMPLETION"
The Morning Call - 27 Aug 1893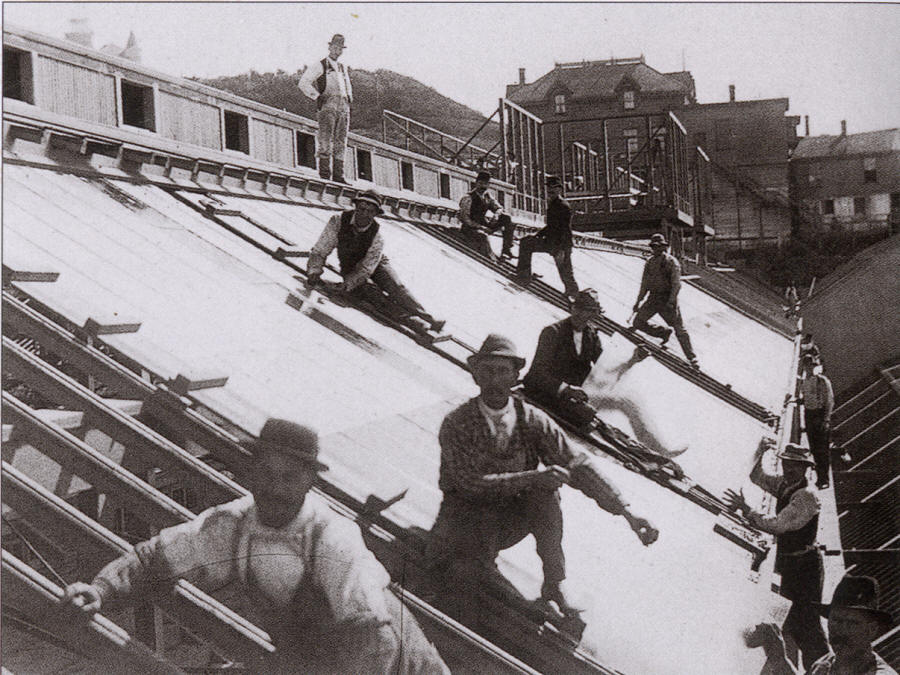 11
California Historical Society (call # CHS 2013-1242)