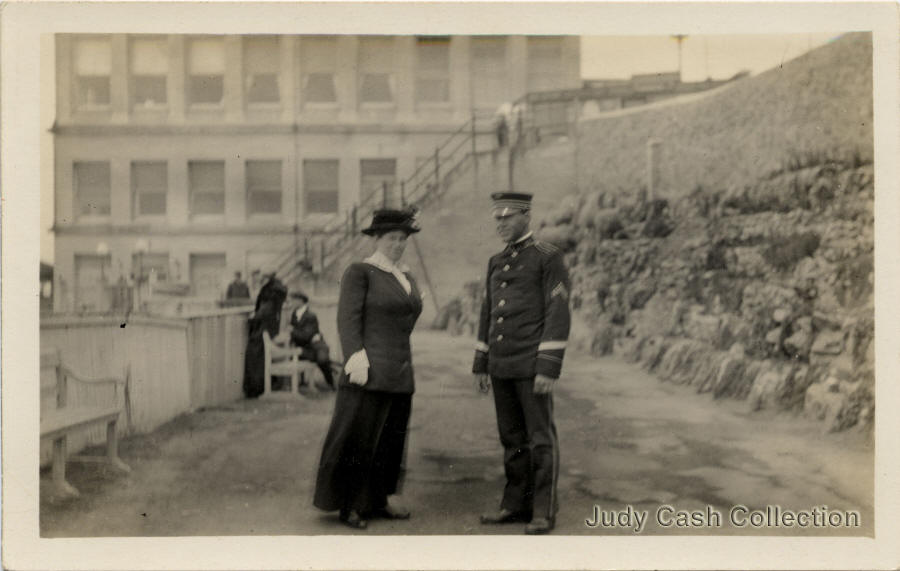 Image courtesy of Judy Cash Collection
"The soldier in the picture does appear to be black. The uniform that he is wearing is a Cavalry Mounted Dress Uniform prescribed for an enlisted man from the period 1913. It is a dress uniform. His rank is that of a SGT. The service stripes are the new 3/8 inch wide type. This is the dress uniform that would have been worn by American Cavalry just prior to WW1. Example can be found in the Horse Soldier Vol. 3, 1776-1943 page 154. As far as him being a Buffalo Soldier, all African-American soldiers who served in segregated units with white officers were considered Buffalo Soldiers."
Wallace Moore Historian, Cowboy poet, Living History Interrupter
www.barkingwaterproductions.com


TEA HOUSE

John Martini analysis (4/14/09): "A U.S. Army soldier in full dress uniform. Probably from the Presidio. It's hard to read the insignia but he appears to be wearing corporal's stripes. Also, the light colored bands on his hat and sleeves might have been yellow, which is the color associated with Cavalry troops. (Artillerymen wore red trim and Infantry soldiers wore blue, both of which would have photographed darker.)"

Judy Cash analysis: There seems to be a special occasion about to start there, as they are decorating the teahouse with American flags. My estimation of date for this photo is February or March 1915 - possibly opening day of ppie?

Image courtesy of Judy Cash Collection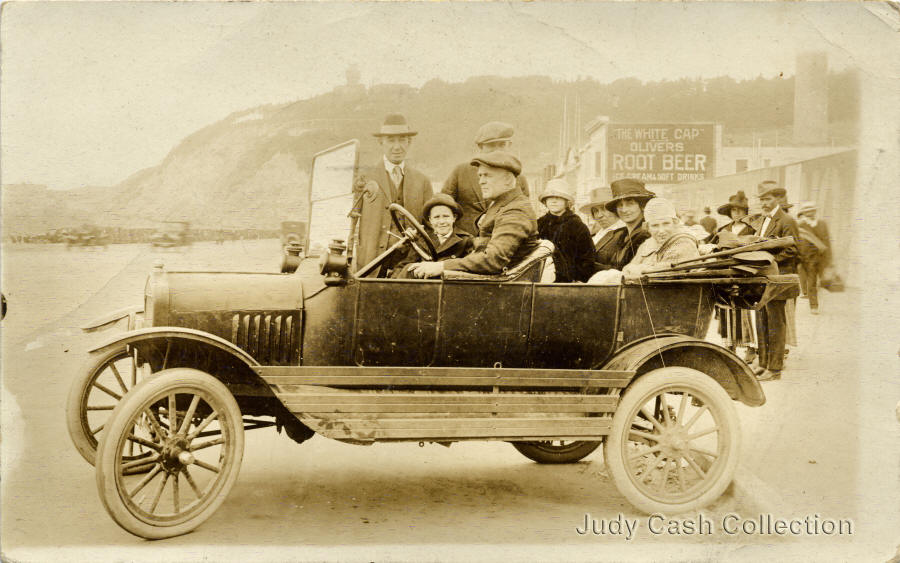 John Freeman notes (4-25-2009): This is most likely one of the "for hire" touring cars, not a private vehicle. The driver is not involved in the picture taking and stares ahead, not at the camera. The 3 slats running from the fenders, above the running board on the drivers side is the strongest indication of a "for hire" car, since passengers would enter or exit at the curb and the left side of the car could be used for luggage or storing blankets/lap robes (since there was no trunk on these old open touring cars. The location is obvious.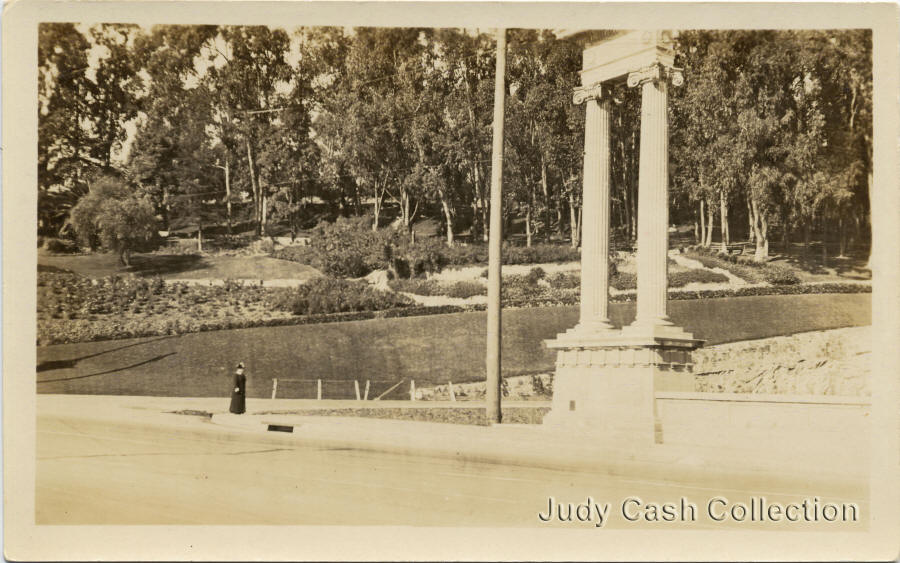 Javier lincolnheightsla.com (4-26-2009): It's not in SF and it's here in LA. I immediately recognized the portals/columns. I always pass by this landmark on my way to a Dodger baseball game. That park is an entrance to Elysian Park on North Broadway. It's the portal of the end/beginning of the Buena Vista Bridge over the LA River. That LA River bridge connects Downtown/Chinatown to Lincoln Heights.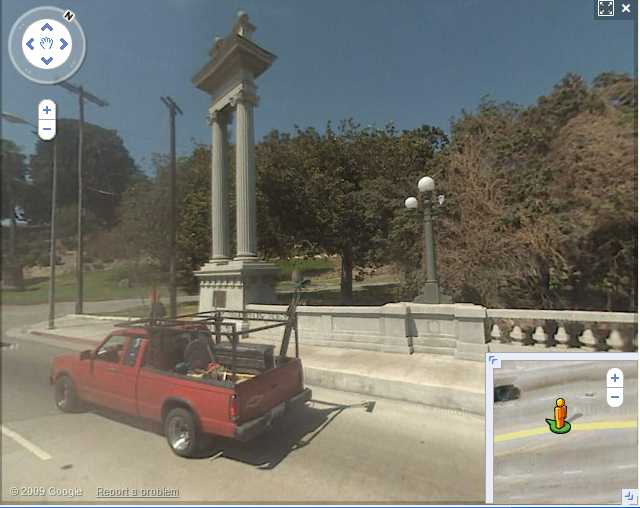 contemporary photo of columns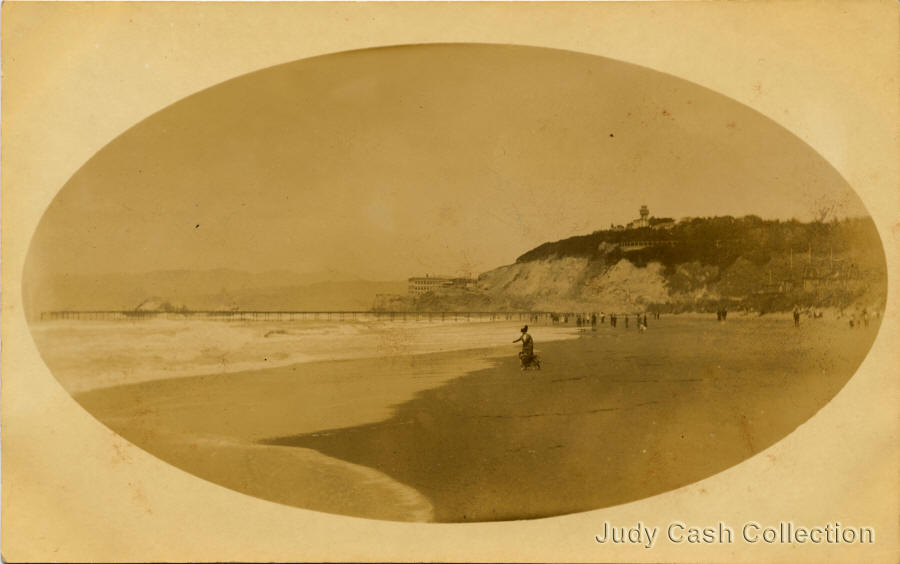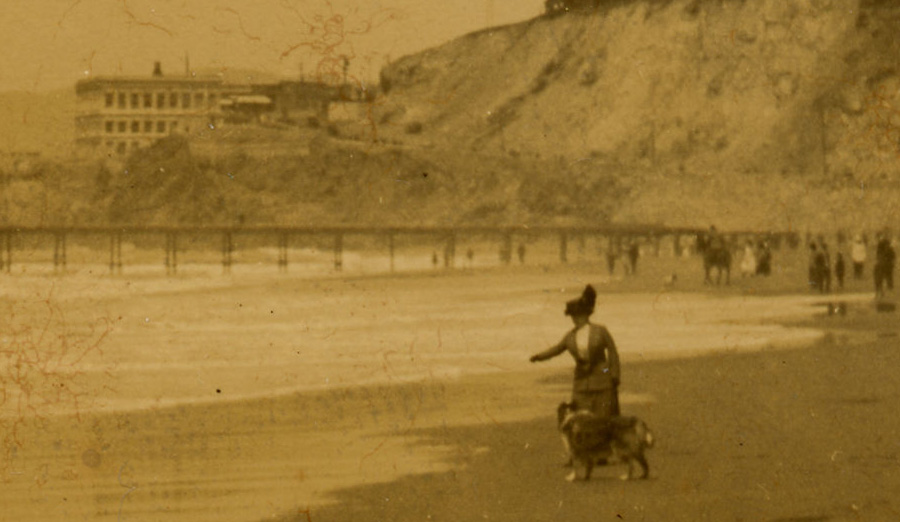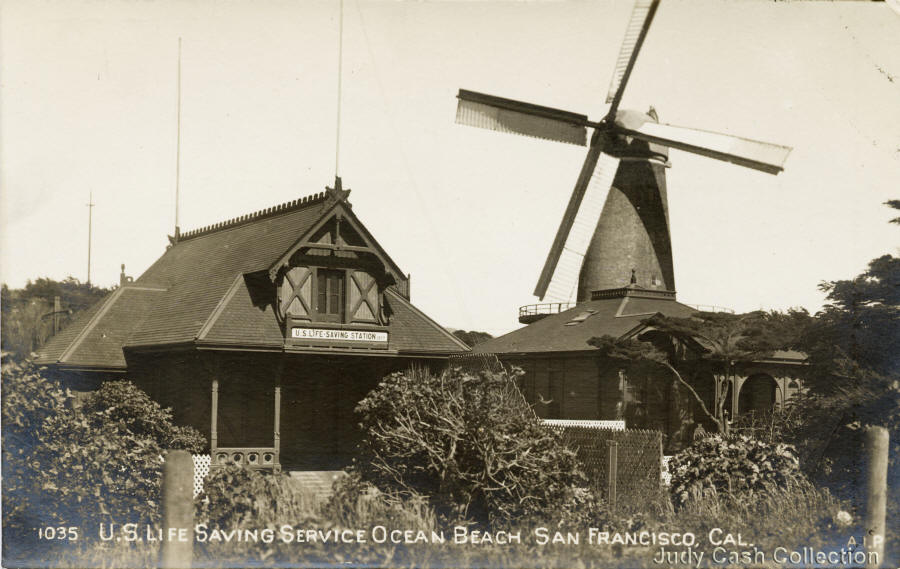 U.S. Life Saving Service, Ocean Beach, San Francisco, Cal.
John Martini (4-25-2009): SE corner of Fulton Street and Great Highway.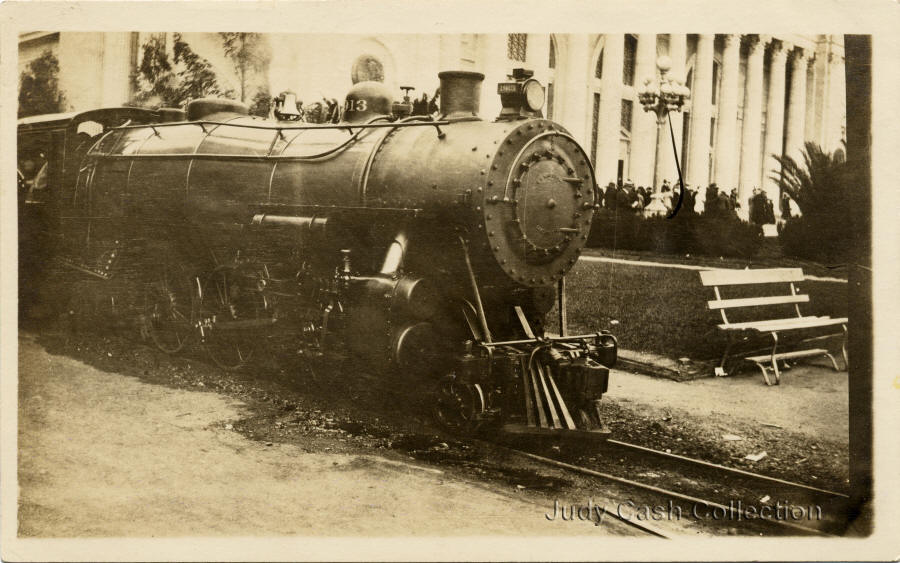 Judy Cash notes: Miniature 1/3-scale locomotive engines numbered 1913, 1914 and 1915 were made (as well as tenders, passenger and freight cars) for the MacDermott Overfair Railway at the Panama Pacific International Exhibition in 1915. All of these engines still exist - fully restored and kept running by the Cal Poly Swanton Pacific Railroad Society. The Virtual Museum of San Francisco has a great article on the complete history of the Overfair Railway.
John Martini notes (4-25-2009): The steam loco was part of a miniature train that ran the length of the 1915 International Exposition.
Glenn Koch: This is the MacDermot engine of the Overfair Railway at the San Francisco 1915 Panama Pacific International Exhibition. It was a miniature engine that went around the fairgrounds and pulled small passenger cars.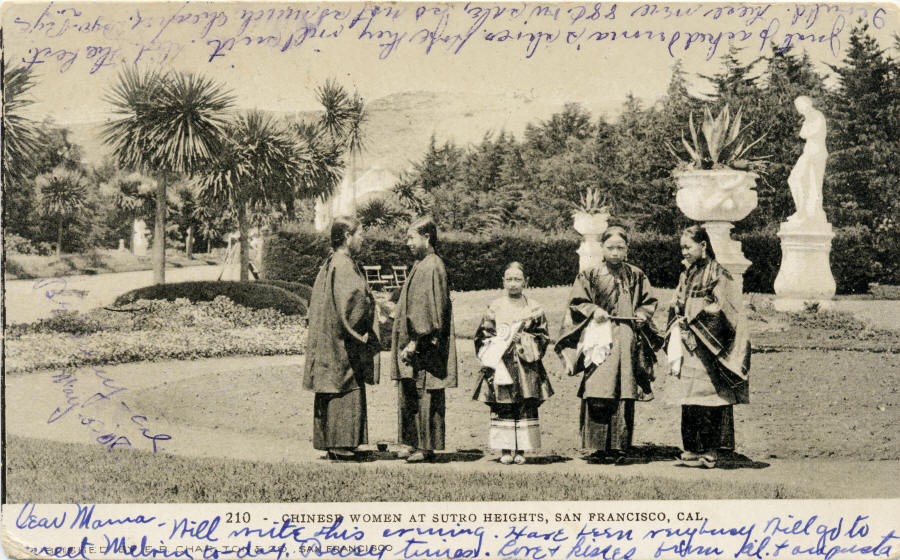 "CHINESE WOMEN AT SUTRO HEIGHTS, SAN FRANCISCO, CAL."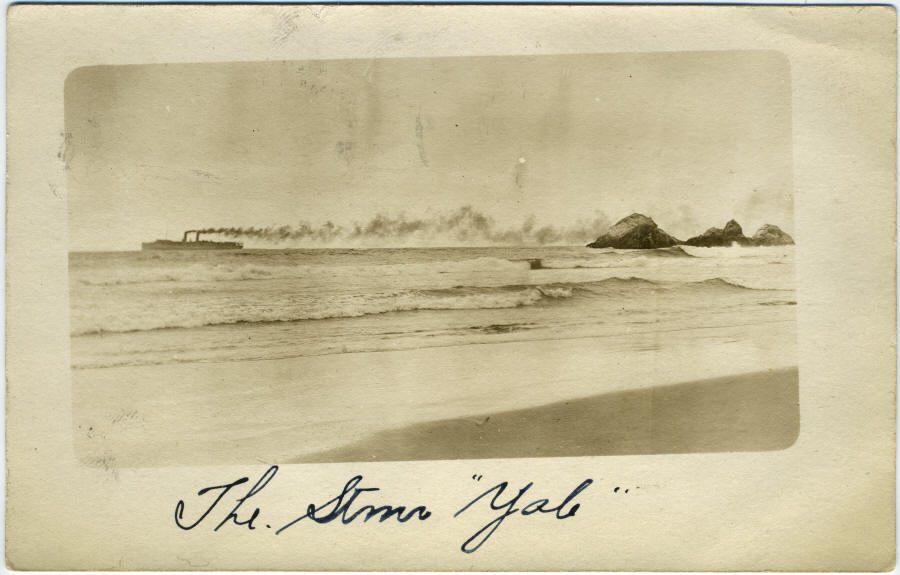 The Steamer Yale
Image courtesy of Judy Cash Collection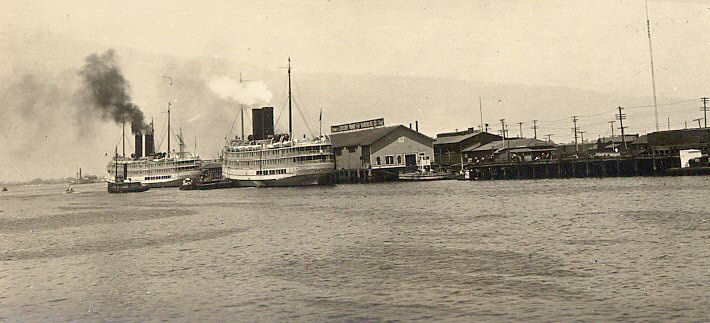 The Harvard and the Yale meeting from their San Francisco and San Diego routes at San Pedro Harbor sometime in March 1915
Image courtesy of Judy Cash Collection